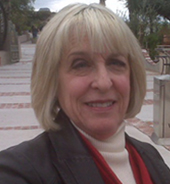 Profile of a DRS Mediator: Janice S. Cleveland
By Krista Goodman
December 2014
We at DRS want to introduce you to the mediators on our panel who dedicate their time and legal expertise to the Riverside County public benefit alternative dispute resolution (ADR) programs. We hope you enjoy learning more about Ms. Janice S. Cleveland. We're extremely grateful and privileged to have her legal talent and expertise involved in these programs.
---
When she starts working on any case, attorney Janice S. Cleveland first learns from what perspective her client is coming from before she offers him or her any advice going forward with respect to their lawsuit.
After 25 years of experience in the legal field, Ms. Cleveland is utmost certain of one skill required in her profession, "You've got to know how to talk to people," she said. "More importantly, before you can learn how to talk to people, you have to understand where they are coming from."
A medical background equipped Ms. Cleveland with the innate ability to understand people and the emotions they experience — and the tools to communicate with them more effectively about their cases.
"If you've ever worked in psychiatry, you know automatically that you don't confront," said Ms. Cleveland. "It's important to understand that it's not going to be easy if someone has an ideation that's false — such as 'I'm going to win a million dollars' or 'My sister took all the money and now I'm going to get it back.'"
Ms. Cleveland earned her Bachelor's degree in nursing from the University of Texas Health Science Center. After completing her undergraduate degree, she continued her schooling, earning a Master's degree in nursing with a specialization in psychiatric nursing, also from the University of Texas. She worked in psychiatry, in such workplaces as the Fort Logan Mental Health Center in Colorado, and taught at the University of Colorado School of Nursing in Denver for several years after completing nursing school.
Eventually, Ms. Cleveland decided it make a career shift. "I liked teaching and I liked working in psychiatry, but I decided I needed a change. I was still young, and I started looking around at other fields," she said. While living in Texas, she'd once thought about going to law school.
Revisiting that earlier notion, she decided to take the LSAT and enroll in law school at the University of Denver Sturm College of Law. She graduated with honors and upheld membership with the Order of Saint Ives, an honorary scholastic legal society which recognizes the students ranking in the upper ten percent of their graduating class.
Ms. Cleveland passed the State Bar in Colorado in 1988, where she is still licensed to practice today. After moving to California with her husband, who has worked in insurance claims for over 30 years, Ms. Cleveland passed the State Bar in California in 1990. She's also admitted before the U.S. District Court and the U.S. Court of Appeals, Ninth Circuit.
For more than 15 years, Ms. Cleveland worked primarily in defense litigation on personal injury, wrongful death, elder abuse and medical malpractice cases. In 2006, she started her own private practice in Riverside, The Law Office of Janice S. Cleveland, where she started focusing her efforts on plaintiff work in employment, education and administrative law. She also started working on probate cases and court appointments.
Ms. Cleveland worked on several important cases when she started her private practice. One of her earliest and most significant special education cases was the matter of Susan Barker v. Riverside County Office of Education. Her client was a teacher who'd been retaliated against for advocating on behalf of special education children. The complaint was initially filed in State Court. Later, fearing that the case would be dismissed, Ms. Cleveland and an associate, decided to voluntarily dismiss the State Court action and re-file the complaint in Federal Court pursuant to federal statutes.
The complaint was immediately dismissed in Federal Court. "It was determined that the case law meant only parents could sue for retaliation under those particular statutes, not a teacher," Ms. Cleveland remembers. With limited past experience in Federal Court and appeals, Ms. Cleveland was still driven to move forward. "I did the appeal by myself. I did the oral arguments, and I won." Today, any person who has been retaliated against for advocating for a specials needs student has the right to file a complaint under particular federal statutes.
A longtime member of the Riverside County Bar Association, Cleveland joined the RCBA Dispute Resolution Service (DRS) panel when she started her own practice. She volunteers time as a mediator for both for the Trial Assignment Mediation (TAM) program at the Riverside Historic Courthouse on Fridays and for the Probate Mediation Program. Both programs are funded, in part, by a grant from Riverside County provided under the Dispute Resolution Programs Act (DRPA). The Riverside County Superior Court and DRS work in conjunction to administer the programs.
Through the Probate Mediation Program, the parties received three hours of time with an experienced mediator at no cost. It takes mediators like Ms. Cleveland who love what they do and are willing to volunteer their time and effort to make the program possible. "I will work forever to get a case resolved," Ms. Cleveland said, "I'm a very firm believer in mediation."
"Mostly, I like to see people take control of their case and come up with a satisfactory solution. Usually, if they go on, the money that it costs to get there — even if they 'win,' it might not be worth it."
Ms. Cleveland also serves on the Riverside County Superior Court's Civil Mediation Panel, where the parties receive three hours of court-ordered mediation through the program. The Court may assign cases or the parties can stipulate to a panel member to mediate. Additionally, Ms. Cleveland serves on the Judicial Arbitration Panel.
"What's so good about the Riverside County Superior Court is that it gives the litigants so many opportunities to settle their cases," Ms. Cleveland commented. "You see the cases listed on the Friday trial calendar, and a lot of them are already settled. I attribute all of that to the way the court is managed."
More recently, Ms. Cleveland joined the Dependency & Neglect Panel for the San Bernardino Superior Court, for which she represents parents who have had children taken away because of neglect. "Usually, in these cases, you're trying to help the parent receive their due process rights and obtain services so that they have a chance at reunification with their children," Cleveland explained.
In her spare time, Ms. Cleveland attends a local athletic club. She also enjoys skiing in Mammoth. She has two Yorkies, Benny and Bailey. "You'd be surprised when I tell you how much time they take; they're really busy dogs," she said with a laugh.
She and her husband Robert have two sons—Geoffrey and Gregory. Geoffrey is studying law at Southwestern University, and Gregory is studying computers at Riverside City College.
For more information about RCBA Dispute Resolution Service, Inc., visit rcbadrs.org or call (951) 682-2132.
---
Krista Goodman is the scheduling coordinator for RCBA Dispute Resolution Service, Inc. She completed her Master of Arts in Strategic Public Relations at the University of Southern California and her Bachelor of Arts in Journalism & Media at California Baptist University.
---
This profile was published in Riverside Lawyer Magazine, Volume 64, Number 11 (December 2014).
---