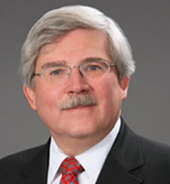 Profile of a DRS Mediator: Charles Schoemaker, Jr.
By Krista Goodman
March 2016
Editor's Note: RCBA Dispute Resolution Service (DRS) is pleased to introduce you to the members of our experienced panel of neutrals who dedicate their time and legal expertise to our Riverside County public benefit alternative dispute resolution (ADR) programs. Please enjoy learning more about DRS panelist Charles Schoemaker, Jr., Esq., whom the organization is honored and privileged to have involved in its private and court ADR programs.
---
"Mediation provides an opportunity to resolve a dispute in a matter of hours, rather than languishing in the court system for months, or even years," remarked Attorney Charles Schoemaker, Jr. on mediation and other methods of alternative dispute resolution (ADR).
With over 30 years of litigation experience representing both plaintiffs and defendants in matters involving business and contract disputes, government tort liability, real estate, construction, personal injury and general civil litigation, Mr. Schoemaker brings a wealth of experience to a sole private practice now focused exclusively on ADR.
Mr. Schoemaker grew up in New Jersey, spending his summers in high school and early college years working for his father's roofing business. He completed his undergraduate degree in English at Rutgers University in 1973.
"In either junior high or high school, I became aware of how important the law was through the various situations that happened to my family members, friends and neighbors. It seemed like access to someone who was knowledgeable about the law—or even better, a lawyer—was vital," Mr. Schoemaker reflected on his decision to pursue a legal career.
He would relocate to the west coast to attend law school at the University of West Los Angeles, completing his Juris Doctorate and passing the California State Bar Exam in 1978.
Mr. Schoemaker spent the first 14 years of his legal career with the Los Angeles-based firm Kegel, Tobin & Hamrick, handling the defense in major injury and complex litigation matters for insured and self-insured clients. He primarily worked on the defense of public entities, in addition to unique cases that did not fall in to one of the firm's primary practice areas. This experience broadened his exposure to many different areas of law.
In 1992, he established a new firm with two business partners, Altman, Minkoff & Schoemaker, in Encino, California. It was later renamed Altman, Schoemaker & Hambleton. For the next decade, he represented individuals, small businesses and public entities as plaintiffs in tort and commercial litigation.
"One of the major differences that I quickly learned in doing plaintiff work is that there is a much different interest and perspective on the outcome," Mr. Schoemaker said. "If you go to trial for a major injury case wherein you represent the defendant, and the verdict does not go in your favor, your client is obligated to pay the amount of the jury verdict. If you're representing the plaintiff in the case, and it is a very severe or life-altering injury, the difference between winning and losing can be having appropriate medical or lifestyle care for this individual. It is not just monetary anymore – it can be an effect on the life of a person."
"Having represented both sides, I developed an understanding of the emotional cost of litigation and how it affects individuals. When you are representing an institution, there is not normally an emotional impact. . . If you have someone with catastrophic injuries, or an egregious violation claim, there is an emotional component to the lawsuit as well as the financial component," Mr. Schoemaker explained. "Understanding both and how they factor into the reason for going forward or settling is an important part of the knowledge base for an attorney."
Mr. Schoemaker's experience with ADR began early in his career as a litigator. Many of his early cases were court ordered to arbitration.
"When I first started practicing in Los Angeles, it took five years to get to trial. In the meantime, I got to do a lot of arbitration. With the arbitrations I observed that the process presented a sense of reality for some clients. . . If the client actually testified and underwent cross-examination in the court contest, they would better understand what was happening in the litigation," said Mr. Schoemaker.
"Eventually that moved to the settlement conferences and the mediations, which started to resolve more cases," Mr. Schoemaker reflected. "I've seen how the perception has changed as to how we get cases out of the system."
At the point in his career when he began to transition out of full-time litigation, Mr. Schoemaker opened his sole private practice, The Law Office of Charles Schoemaker, Jr. in 2002.
He started mediating cases through the Los Angeles County Superior Court's ADR program. He also joined the panel for the Volunteer Settlement Officers Program, a program in which an experienced attorney in representing plaintiffs and an experienced attorney in representing defendants together would handle three to five settlement conferences in a day.
"It was very focused and intense. There were very senior attorneys from both the plaintiff and defense sides. They would ask very probing questions to the various parties. These neutrals knew what questions to ask and would challenge the parties on their positions," Mr. Schoemaker remarked. "They could get to the point very quickly."
"What was surprising to me was how many cases were in the advanced stages of litigation, or were about to go to trial, and information was not available on issues that were certainly pertinent to the case," He said. "There were a lot of unprepared cases."
The experience he obtained through these programs ultimately led to the expansion of Mr. Schoemaker's ADR practice to the counties of Riverside and San Bernardino.
He completed conflict resolution training at Loyola Law School in 2004. He also completed a 42-hour training program through the Straus Institute of Dispute Resolution at Pepperdine University School of Law entitled "Mediating the Litigated Case;" "Essentials on Elder Adult Mediation" through Adult Resolution and Mediation Service; and continues to participate in continuing legal education seminars on ADR topics.
"Part of the role of the mediator is to figure out why the case has not gotten settled and determine which approach to take in order to help resolve it."
"The facilitative approach is more for a business or commercial case – that is finding common interests and showing the parties what they have in common. If it is a business relationship that is to be repaired and they want it to work in the future, assuming the facilitative role as a neutral is very beneficial for that situation," Mr. Schoemaker explained. "The evaluative approach is more effective on cases where the dollar amount is in dispute and at least one side is either miscalculating or misjudging the valuation of the case."
"There are all kinds of mechanisms for dispute resolution. All of the techniques have a place in various cases and an understanding of when to use which particular approach or model is what makes a good mediator."
Today, Mr. Schoemaker is a member of the Civil Mediation Panel for the Riverside County Superior Court, and the ADR panel for the Court of Appeal, Second District. He is also a member of the private ADR panels for DRS and California Mediation and Arbitration Services, Inc. (CAMS).
Mr. Schoemaker serves on the panel for the Trial Assignment Mediation (TAM) program at Riverside, which is administered by DRS and the Riverside County Superior Court, and funded by the Dispute Resolution Programs Act through the County of Riverside. The program commences every Friday at the Riverside Historic Courthouse, where matters on the civil trial calendar are referred to mediators to receive one last opportunity to settle before going to trial the following week. The Court provides facilities for confidential use by the parties at the courthouse. Mr. Schoemaker is also on the panel for TAM at Southwest, which commences on Fridays at the Southwest Justice Center in Murrieta.
"In theory, this is the first day of trial and the parties are answering ready," he said. Recently, he successfully mediated a case where an expert deposition and a private mediation had already been completed earlier that same week. One side had seven experts lined up, and the other had five. The witnesses and documents had been subpoenaed, and all of the motions had been submitted. "One of the arguments you make at a mediation that commences early in a case is that the parties are going to save a lot of money on litigation because they do not have to do all of this."
"Surprisingly, the statistic is about one-third of the referrals to the TAM program are settled," Mr. Schoemaker said. "These are cases that have already been through at least one settlement conference, the experts have been deposed, the money has been spent to prepare the case for trial, and they are still settled."
Mr. Schoemaker is an AV-rated attorney on MartindaleHubbell, which is the highest ranking in its peer review system. He is a member of the Riverside County Bar Association and the Southern California Mediation Association, and a past member of the American Board of Trial Advocates (ABOTA).
He resides in La Quinta, California, and enjoys traveling, golf, reading and deep sea fishing in his spare time.
For more information about RCBA Dispute Resolution Service, Inc., visit rcbadrs.org or call (951) 682-2132.
---
Krista Goodman is the scheduling coordinator for RCBA Dispute Resolution Service, Inc. She completed her Master of Arts in Strategic Public Relations at the University of Southern California and her Bachelor of Arts in Journalism & Media at California Baptist University.
---
This profile was published in Riverside Lawyer Magazine, Volume 66, Number 3 (March 2016).
---