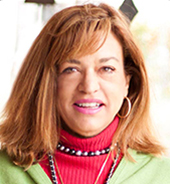 Profile of a DRS Mediator: Christine A. Greer
By Krista Goodman
July/August 2014
Editor's Note: We at DRS want the members of the RCBA to know the mediators on our panel who dedicate their time and services to help us run our programs for the benefit of the public of Riverside County. We hope you enjoy the opportunity to read more about this mediator's personal and professional history. We are truly grateful to have Christine A. Greer and her expertise on our panel.
---
In the practice of mediation, attorney Christine A. Greer believes in placing all parties in the same room to work out the various matters of their dispute. Mediation style can vary greatly from case to case and from attorney to attorney.
"I believe you need to have everyone sit together in a room and get everything on the table. Sometimes people need to have the opportunity to vent their frustration about their issues. . . After they get all of that out, you can usually get down to the real issues."
On the first and third Fridays of every month, Greer appears at the Family Law Court in Riverside to volunteer her time and legal services for the Voluntary Settlement Conference program. The parties selected for the program have the opportunity to settle their Family Law cases within a day.
"The parties in these cases are nice people normally that are sometimes just in really bad situations," Greer said. "As a mediator, I am kind of the Band-Aid."
Last year, Greer settled every case she mediated for the VSC program — affirmation that her mediation style is not only effective, but helps parties resolve their cases and move on with their lives.
"The greatest reward is when you do a good job and they [the parties] get through the system. . ." Greer said. "When I am able to help resolve the case, I always sit in the courtroom and watch them settle their case with the judge and congratulate them afterward."
Greer's extensive background in both in real estate and childcare lend to her skill as a family law mediator.
After she completed her undergraduate degree in Communications/Pre-Law at Chico State University in 1978, she decided get her real estate license. It proved to be a lucrative life-long career move. Her 30 years of experience as a real estate broker is a great asset in cases where there are property division issues. She has participated in real estate continuing education on issues of 1031 exchanges, tax law, mortgages/consumer credit, short sales and real estate owned property.
Greer went back to law school in 1991, completing her Juris Doctor at Western State Fullerton and passing the California State Bar in 1994.
Her background in childcare started from a personal need. Like many working parents, out of necessity she once sought a reputable daycare facility for her young children during business hours. When there were no such facilities available, Greer decided to start her own. Eventually, she was the owner of the largest daycare facility in Riverside County, actively serving as many as 300 families at a time. She owned the business for 25 years.
Now her five children are fully grown, ranging from ages 24 to 34. She has six grandchildren.
Greer and her husband currently own and operate the Law Offices of Beck & Greer, located in Canyon Lake, California. Her primary areas of practice are family law, juvenile law, and real estate.
Their offices were recently rebuilt. Just four years ago, a fire lit by an arsonist in a nearby bar took nine buildings (their offices among them) in its awake. She explained that it was fortunate that she and her husband owned the building, but the fire was devastating to the operation of their practice as none of their business was conducted digitally (via email) during that period.
"The first day my husband went to court, he brought a picture of our office burned to the ground and asked for a continuance," she remembered with a laugh.
"It was interesting. I didn't know who my clients were or where we were supposed to be," she said. "There was a group of attorneys who made special appearances for us during that first few weeks as we tried to piece our calendar back together."
Still, she explained that some good did come from the experience. She has appeared at various speaking engagements to share knowledge and experience with others about what's necessary to be prepared for a fire, or similar crisis — including keeping back-up systems and maintaining the necessary insurance.
Greer has sat on 19 different benches as a judge pro tempore, including family law, juvenile, small claims, dependency and delinquency. She also serves on the Riverside Superior Court's civil and probate mediation panels. Additionally, she has served on the Board of Fee Arbitration for the California State Bar.
Greer has received mediation training from both the Pepperdine University Straus Institute for Dispute Resolution and the Center for Understanding in Conflict.
Today, Greer and her husband proudly own a winery located in Temecula Valley. Curry Vineyards was founded by Charlie Curry, who originally sought to create the "best Reds in the region" when he relocated to Temecula Valley from the Northern California coast; the first vintage was produced in 2004.
Greer explained that many of her colleagues frequent the winery. Curry Vineyards is open from Thursday through Sunday, with live music featured on Friday and Saturday nights. More information is available at curryvineyards.com.
For more information about RCBA Dispute Resolution Service, Inc., visit rcbadrs.org or call (951) 682-2132.
---
Krista Goodman is the public relations coordinator for RCBA Dispute Resolution Service, Inc. She recently graduated with a Master of Arts in Strategic Public Relations from the University of Southern California.
---
This profile was published in Riverside Lawyer Magazine, Volume 64, Number 7 (July/August 2014).
---