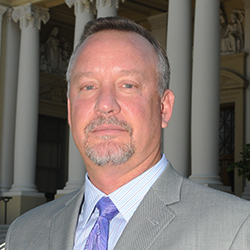 DRS President Profile: Christopher G. Jensen
By Bruce E. Todd
December 2017
---
In the realm of legendary mediators in Riverside County, probably no one surpasses the late Elwood "Woody" Rich. As the designated settlement conference judge for the Riverside County Superior Court, Judge Rich successfully resolved thousands of litigated cases during his long tenure with the court.
There is another individual whose reputation is becoming just as notable as Judge Rich in the field of dispute resolution here in Riverside County. That person is Christopher G. "Chris" Jensen, who is the president and chairman of the board of the RCBA Dispute Resolution Service (DRS).
During its time, the DRS program has developed into a significantly lower cost alternative to other dispute resolution services such as JAMS and Judicate West. Its panel of mediators generally consists of experienced local attorneys who have received specialized training in how to handle a myriad of cases ranging from business disputes to personal injury claims to everything in between.
Jensen, along with his mentor (retired judge) Charlie Field, was one of the individuals who was instrumental in founding the DRS program in 1994.
"In about 1993, Charles Field created a court committee for the purpose of exploring providing mediation services as a new alternative to court process resolution," said Jensen. "With Judge Field, we explored what, if anything, other courts offered beyond the old text book MSC. We looked to what would make Riverside better. I learned a lot about the system and process thanks to Judge Field."
He said that prior settlement organizations (such as Settlement Now) morphed into a bar committee organized by then RCBA president Geoffrey Hopper and included, at times, Judge Field, Terry Bridges, Dan McKinney, Peter Mort, Douglas Miller, David Chapman, and Michelle Ouellette. The group became a non-profit which is now DRS. Jensen and Ouelette are currently the only original board members.
Jensen realized early on that creating a mediation program for the court system would be a tremendous benefit to the judges in reducing their caseload.
"It was obvious we were missing opportunities. I was interested in how mediations would help the court with its backlog of cases," he commented.
During the embryonic years of DRS, Jensen received invaluable assistance from some of the most influential attorneys with the local bar association.
"I consider myself fortunate to have had mentors such as Judge Field, Don Powell, Steve Harmon, David Moore, and many others. I could always walk in and talk to any one of them. These were the 'name' guys in town helping me. They instilled in me the benefits of being involved in the bar association and helping the community."
Jensen understands that there are various legal organizations, such as the American Board of Trial Advocates (ABOTA), which promote mediation as a means to significantly reduce the amount of cases which actually proceed to jury trials but he is quick to point out the following response. "In the old days, we would go to trial with just some medical records and a deposition. Now we practice gold plated law—no stone goes unturned. This mentality has increased the litigation expenses for our clients."
He also points out that the cost of litigating cases has become much more expensive over the years.
"There is an inherent conflict which exists with lawyers. While championing a case to trial may benefit the client, it financially benefits the attorney. An early settlement does not. We have an obligation to our clients to try to resolve each case so that clients don't spend a lot of money. We as lawyers believe unless we statistically have many trials to verdict, we may not be a true advocate. But I don't think we lose our advocacy skills just because we mediate a case. Mediation is simply another form of trial but, and here's the key, within our own control."
He also sees a benefit in the concept of having several mediation sessions during the course of a lawsuit because many times it is obvious during the initial mediation that the case may not be ready to settle.
"People need to make informed decisions. So sending participants back with 'homework' allows more in depth thought and results in a better, more informed resolution."
Besides being involved in the organizational aspects of DRS, Jensen himself is a very experienced mediator. He reads lots of books on the art of how to be an effective mediator. He has mediated, in his own words, "a couple hundred cases." He is a graduate of the influential training program called "Mediation: The Art of Facilitating Settlement" which is a 40-hour course presented by Pepperdine University's Straus Institute for Dispute Resolution.
He has high praise for the DRS program which he helped create.
"A simple review of our webpage and the resumes and bios which are provided would allow anyone to conclude that we have a quality panel of mediators and arbitrators," he said. "It takes a highly skilled person to organize, moderate, and successfully complete a mediation nowadays. The variety of legal backgrounds offered by DRS is incredible for achieving the correct result."
Jensen himself has received high marks from many prominent members of the local legal community for his involvement with the DRS program. For example, Judge Gloria Trask has this to say about him.
"He is just so dependable. So consistent and reliable." she said. "When I think of ADR I think of Chris. He has always been my attorney sidekick for all things ADR. The Riverside County Bar Association has been truly blessed to have the benefit of this man's generosity and devotion to ADR for more than 22 years."
Admitted to the California Bar in 1988, he is one of the partners in the Riverside law firm of Reynolds, Jensen, Swan & Pershing, LLP. His legal practice primarily focuses on business litigation and transactions. He has received the prestigious "AV' rating with Martindale-Hubbell. He has served as a fee arbitrator on the RCBA Fee Arbitration Panel. He taught law school classes at California Southern School of Law for nearly two decades and is an instructor at the University of California, Riverside. He has also served as a judge pro tem for over 15 years.
Born in Arcadia, California, he grew up in Diamond Bar when "it was just a ranch." He now resides with his wife, Lori, in Riverside. They have two adult children—John and Nichole. He noted that Nichole has kept a family tradition alive in that all four of them have worked, at one time or another, at Disneyland—she is currently an employee at California Adventure. In his spare time, he enjoys golf and spending time on his boat (as Capt. Les Capable of the Liki Tiki). He also has become very interested in genealogy.
And so what advice does he have for litigators and mediators?
"Prepare!" he says. "Being prepared and knowing the case is the key to a successful mediation."
---
Bruce E. Todd, a member of the Bar Publications Committee, is with the firm of Osman & Associates in Redlands.
---
This profile was published in Riverside Lawyer Magazine, Volume 67, Number 11 (December 2017).
---