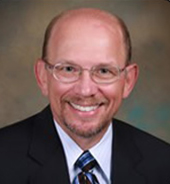 Profile of a DRS Mediator: Elliott S. Luchs
By Krista Goodman
September 2014
We at DRS want to introduce you to the mediators on our panel who dedicate their time and legal expertise to help us run our Riverside County public benefit ADR programs. We hope you enjoy the opportunity to read more about this mediator's personal and professional history. We're truly grateful and privileged to have Mr. Elliott S. Luchs and his expertise on our Executive Board and on our panel.
---
"The best thing I can do as your attorney is avoid litigation and keep you out of court," attorney Elliott S. Luchs advises clients when they first walk into his Riverside law office. Luchs has practiced in Riverside for over 36 years.
"There are two ways to approach a case—the law school approach and the practical approach," Luchs explained. "The law school approach says that if there's a breach of contract, let's sue. The practical approach says that if you do sue, it's going to cost you a lot of money and it's going to take a lot of time to get to court."
"Litigation is very expensive, and at the end of the day, you don't know if you're going to win. Even if you do win, you don't know if the other side is going to have any money to pay you."
Raised in the Orange County area, Luchs remembers his first day working in Riverside 36 years ago—June 12, 1978, a Monday. "Most of the attorneys in those days seemed to know each other. If you lived in Riverside, you ran into people you knew all the time," he remembers, "you'd see judges, too, and you could go into court and talk to a judge if you had questions about procedure."
One of the first initiatives Luchs took when he and his wife Connie first moved to the new city was join the Riverside County Bar Association. He's been involved with several RCBA committees since then, including serving as chairperson of the Probate & Trust section and as a panelist for attorney fee dispute arbitrations.
Today, he handles matters in the areas of business, construction, real property, probate and trusts at his private practice on Riverside Avenue, The Law Office of Elliott Luchs.
Luchs' experience with alternative dispute resolution (ADR) goes back to when the Riverside County Court first introduced ADR methods to resolve court cases.
"We didn't have 'mediations' back then—we would have voluntary or mandatory settlement conferences," Luchs remembers, "and sometimes the Court would bring in experienced lawyers to act as settlement conference officers."
He first served as a settlement conference officer for the Riverside County Superior Court, later joining the panel for the State of California Court of Appeal Settlement Conference Program. He explained that settlement conference officers were selected from a list of experienced, reputable attorneys in the Riverside County area. Many of the attorneys involved in the program also had experience in the role of a judge pro tempore for the Court, including himself.
"Whenever I advise a client on their case, I step back and try to look at it as if I were the judge or arbitrator. I really believe that serving as a pro tem, and handling these mediations and arbitrations made me a better lawyer later on," He reflected. "Mediations helped me take a more objective view of the dispute."
Luchs' involvement with the RCBA and experience as a settlement conference officer eventually led to his joining the RCBA Dispute Resolution Service, Inc. (DRS) panel after its founding in 1995. Later, he was invited to join the Executive Board, a position in which he's still actively involved with the decision making processes about policy, panelist applications and other matters pertaining to the organization.
He's admitted to practice before the State of California, the U.S. District Court, the U.S. Tax Court and the U.S. Supreme Court.
Before moving to Riverside, Luchs spent his first four and half years of practice with the law firm of Garber, Sokoloff & Van Dyke in Fullerton, where he gained practical experience in a wide range of practice areas.
Luchs knew at a young age that he wanted to become a lawyer. "My father, an engineer, came to me when I was 17 years old and said, 'Have you ever thought about the law?'" To which, Luch first responded, "No." Seven years of school sounded like too much time to spend in school, but he soon changed his mind after considering all of the directions he could take his career with a law degree. "I'm the only person I know that, at 17, decided what he wanted to do, did it, and stayed with it."
Luchs went on to earn his Bachelor's degree in history from the University of California at Irvine in 1970, and his Juris Doctorate from the Pepperdine University School of Law in 1973.
One his proudest childhood memories he remembers to the day, July 17, 1955—the day Disneyland opened in Anaheim. He was just 7 years old. "It was hot, crowded and the asphalt was soft," He recalled. "All I remember is going on the Utopia cars and bumping my head on the steering wheel because that's how small I was. In those days they didn't have the height restrictions."
Luchs and his wife Connie have been married for 38 years. Their son Adam, 33, completed his degree at the University of Hawaii. Adam and his wife still live in the Aloha State. Their daughter Molly, 29, is a graduate from California State University at San Bernardino. Molly and her husband, who serves as a U.S. Marine, will relocate to South Carolina this year. Molly is expecting her first child in February 2015.
For more information about RCBA Dispute Resolution Service, Inc., visit rcbadrs.org or call (951) 682-2132.
---
Krista Goodman is the public relations coordinator for RCBA Dispute Resolution Service, Inc. She recently graduated with a Master of Arts in Strategic Public Relations from the University of Southern California.
---
This profile was published in Riverside Lawyer Magazine, Volume 64, Number 8 (September 2014).
---