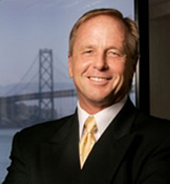 Profile of a DRS Mediator: James O. Heiting
By Krista Goodman
February 2014
Editor's Note: We at DRS want the members of the RCBA to know the mediators on our panel who dedicate their time and services to help us run our programs for the benefit of the public of Riverside County. We hope you enjoy the opportunity to read more about this mediator's personal and professional history. We are truly grateful to have James O. Heiting and his expertise on our Board and on our panel.
---
A past president of the State Bar of California, the Riverside County Bar Association and The Other Bar, attorney James O. Heiting has practiced as a managing partner of a successful law firm in the Inland Empire for over 38 years. Founded in 1976, Heiting & Irwin specializes in the areas of personal injury, medical malpractice, legal malpractice, general liability, governmental liability, equine law and claims, employment litigation, business, and real estate litigation.
With a philosophy deeply based on putting the client first, it is not surprising that Heiting's career aspiration as a young adult was to become a doctor. Only during a high school chemistry class did he discover that color-blindness might prevent him from helping patients to the best of his ability. Instead, he chose to study business and accounting.
"It just so happened that when I was in my sophomore year in college my family needed a lawyer," Heiting said. "When we engaged a lawyer, I found him to be rather aloof and uncaring. He didn't seem too interested in us and what we felt was a really important, life-changing situation."
Discontent over the experience left such a profound impact on Heiting that he decided to pursue a law degree, which he completed at the Western State University College of Law in 1975. "I became a lawyer because I wanted to be able to treat clients like I wanted to be treated," Heiting said.
He aimed to bring compassion and understanding to his work and to maintain an open dialogue with his clients so that they would not feel in the dark about their cases — all values he continues to make a priority in his client relationships today.
Heiting began his legal career as a law clerk. He became an attorney for the same law firm after passing the Bar in 1976. In 1978, the law firm disbanded, leading him to start his own practice.
"One of my first projects was to work on an appeal in a criminal matter," he said. "To see how the nuances of the law and how the details that you can find in appropriate legal research can affect outcomes and how they can affect someone's life was fascinating and remarkable to me."
Heiting joined the RCBA in 1977, where he has continuously served on a number of committees and in a variety of capacities throughout his legal career. He served as its president from 1996 to 1997. In 2009, he received the James A. Krieger Meritorious Service Award, the highest honor bestowed by the RCBA.
A supporter of alternative dispute resolution methods, Heiting currently serves as a director on the executive board for RCBA Dispute Resolution Service, Inc.
"Keeping the client's interests in mind, the mediation and arbitration process becomes very valuable," He said. "It's much less costly, it's a lot quicker and it many times gets the client the maximum settlement possible."
The RCBA is only one among many organizations in which Heiting has deeply invested his time and energy. He is a current trustee of an International Lawyers group; a founding member of the Leo A. Deegan Inn of Court; co-founder of the local chapter of the Federal Bar Association; current chair of the Substance Use Disorders Advisory Board to the Health Law Section of the American Bar Association; a past president and current executive board member of The Other Bar; a member of the Alternative Dispute Resolution Committee for the California Judges Association; and a member of the American Bar Association Dispute Resolution Section.
Heiting served on the Board of Governors for the State Bar of California from 2002 through 2006, representing the counties of Riverside, San Bernardino, San Luis Obispo, Ventura and Santa Barbara. He was vice-president and treasurer in 2004 and was elected to the presidency of the State Bar in 2005. Heiting is the only attorney from the Inland Empire area to become a president of the State Bar of California.
"It was very humbling that I was elected to that post," he reflected, "and it was remarkably uplifting. I am always so grateful for that opportunity, including being a part of a lot of decision-making, and committees and groups that can and do change the courts and change the course of the law."
One of the initiatives that he was able to help implement was a "Pipeline Program" that works with high schools to develop and encourage disadvantaged students to go to law school and be successes as lawyers and judges.
"The program was designed to encourage diversity, encourage the discouraged, encourage the disenfranchised and encourage the disadvantaged to go through school to become lawyers, and once they were lawyers to become judges and then as judges to become justices," Heiting said. The Program moved on to become not only an important program to the state, but also an adopted initiative of the American Bar Association, added Heiting.
More than anything else, Heiting cites relationships and encouragement as the driving influences behind his professional accomplishments. "The relationships that I developed in the RCBA led to all of the successes that I have enjoyed over the years," he said. The RCBA gave him the groundwork and the relationships he needed to build, to succeed and to move in circles where he could make positive and long-term contributions to the legal and non-legal community on a local and national level.
Heiting has many personal interests, including a musical background and appreciation for the fine arts. He currently serves as president of the Riverside Lyric Opera Association.
The owner of 12 horses, he is also the current president of the Tennessee Walker Association of California. He competes as a rider in World Championships with his horse, Dragonfire. Together they have won six World Championships and three World Grand Championships.
He and his wife Cindy have three adult boys and six grandchildren.
On his investment in such a broad spectrum of professional service activities, Heiting remarked with sincerity, "They all make me better. They make me a better lawyer or they make me a better person. One of the two things, I always believed that our existence is as human beings first, and then secondly in the career we choose."
He added, "If I have something I can give, I want to be able to give it."
For more information on Heiting & Irwin, visit heitingandirwin.com. For more information on RCBA Dispute Resolution Service, Inc. and its services, visit rcbadrs.org or phone (951) 682-2132.
---
Krista Goodman is the public relations coordinator for RCBA Dispute Resolution Service, Inc. She recently graduated with a Master of Arts in Strategic Public Relations from the University of Southern California.
---
This profile was published in Riverside Lawyer Magazine, Volume 64, Number 2 (February 2014).
---