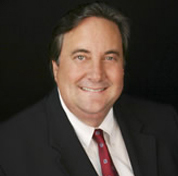 DRS Mediator Profile: John A. Boyd
By Betty Fracisco
November 2017
---
An Attorney for All Seasons
John Boyd exemplifies the notion of a "life well lived." This long-time partner at Thompson & Colegate has never failed to volunteer his services when the need arose. And through his life, this "need" has taken many forms.
John grew up in Corona and graduated from Corona High School. He started his educational career at Riverside Community College in 1972, transferring after only one year to San Diego State, where he graduated in 1976 with a degree in marketing. He could not see himself spending a life in sales, and he had always thought about a legal career, so his junior year he decided to improve his grades and made the Dean's List. He did well on the LSAT, so his next stop was Pepperdine School of Law, which at the time was in Orange County. After completing his first year, he married his college girlfriend, Janice, to whom he's been married for 40 years. He gladly admits he's been blessed and that he and Janice were opposites; she kept him on a budget throughout law school. He felt Pepperdine was a good fit for him. He served as a member and business editor of the Pepperdine Law Review. He graduated from the Malibu campus in 1979 and was admitted to the Bar that year.
The year 1979 also marks the beginning of John's 38-year career at Thompson & Colegate, which was an insurance defense firm when he signed on. John practices business/commercial law, which encompasses formation, contracts, construction disputes, collection, civil litigation, bankruptcy and creditor's rights. He has really enjoyed his days at this close-knit firm, which became his family, one that has an annual retreat off-site. As a young attorney, he worked with many of Riverside's legal pioneers, like Bob Swortwood, Jack Marshall, Don Grant, and Don Brown. He held Jim Ward's briefcase when they appeared before the U.S. Supreme Court on a Press Enterprise access case. He also had the opportunity to work with two of Riverside's female pioneers, Joan Burgess and Sharon Waters, both of whom are currently serving on the bench.
John commented that he has seen two significant changes in the legal profession during his career: the diversity of attorneys and the growth of technology. The diversity is a positive change which is helping reduce the predominance of white males in the profession. However, technology has turned up the stress level for attorneys. Gone is the time attorneys used to have to cool off after a heated phone call before writing that responsive (possibly nasty) letter. This has been replaced by the instantaneous email, which often contributes to animosity. He feels this has ratcheted up the pressure on litigators. Additionally, attorneys now have laptops and are expected to produce their own documents. They never have to verbalize their thoughts, as in the days of dictating letters and other documents.He feels they are losing the opportunity to express themselves verbally, outside the courtroom.
One of John's volunteer persuasions is mediation. As he points out, Abraham Lincoln was the first American mediator. There are always barriers between parties, and this taxes the courts, so mediation is always good. He has served with the Riverside County Bar Association's Dispute Resolution Service for more than ten years and also serves as a Judge Pro Tem for Riverside County Superior Court. He believes the most important trait of a mediator is the ability to listen. After a mediation, he finds himself emotionally drained, because the mediator has to think quickly to provide strategies and rationale that will get the parties to come to an agreement. After a mediation, he wants the parties to realize that they have had to compromise. They may not have achieved 100% of their desired goal, but they have settled the case and can go on with their lives without litigation hanging over their heads. He will mediate a wide range of cases, but declines personal injury because he has little experience in that area. And he comes up with creative solutions; he's been known to put at least one settling party on a payment plan. Even though he receives very reduced fees for this work, one of his future goals is to attend Pepperdine's Straus Institute for Dispute Resolution to hone his skills.
John also volunteers with the TAM (Trial Assignment Mediation) program, which deals with cases the day before trial. The bench is very supportive, because they want cases settled, if at all possible. If the case does not settle, it is continued or goes immediately to trial. This work, in which John has also been involved for about ten years, is all done for a token flat fee, so it, too, is a labor of love. John also serves as a fee arbitrator for the RCBA Fee Arbitration Panel, where he admits he has seen a few "fake attorney fees" bills. It takes a seasoned attorney to know.
So where does an attorney develop this spirit of volunteerism? With John, it came to the forefront when he became the father of three sons. He coached them in Little League and National Junior Basketball and was involved with AYSO. Probably the most rewarding of his volunteer activities, however, was coaching the Mock Trial teams of Woodcrest Christian High School for seven or eight years. This experience quite possibly steered his twin sons into the legal profession: Jeffrey is an assistant district attorney in Orange County and Michael is an assistant district attorney for Riverside County, now in Banning. Older brother Steven chose a high-tech career with ESRI in Redlands. This could have been the genetic influence of John's wife Janice, currently a CPA with Teaman Ramirez and Smith. John and Janice have five grandchildren, with another on the way, and John's five-year plan is to take the whole family on a trip outside the U.S. John also serves on the board of his Church of Christ in Riverside and has been an active volunteer there for countless years.
John Boyd is definitely an attorney for all seasons. He is a well-respected partner in a prominent law firm, a good son (his parents have been married 70 years), a good husband (although we'd have to ask Janice about that), a devoted father and grandfather (ask him about his first three grandchildren being girls), and a much appreciated member of the Riverside County Bar Association. John's service and his willingness to pitch in when needed is legendary, and for that we salute him.
---
Betty Fracisco is an attorney at Garrett & Jensen in Riverside and a member of the RCBA Publications Committee.
---
This profile was published in Riverside Lawyer Magazine, Volume 67, Number 10 (November 2017).
---