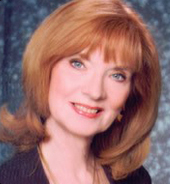 Profile of a DRS Mediator: Judith A. Runyon
By Krista Goodman
January 2014
Editor's Note: We at DRS want the members of the RCBA to know the mediators on our panel who dedicate their time and services to help us run our programs for the benefit of the public of Riverside County. We hope you enjoy the opportunity to read more about this mediator's personal and professional history. We are truly grateful to have Judith Runyon and her expertise on our Board and on our panel.
---
Located in the heart of Downtown Riverside -- not five minutes away from the historic Riverside County Courthouse, the Riverside Hall of Justice and the Riverside County Bar Association (RCBA) -- is the Law Office of Judith Runyon. Owner and operator Judith A. Runyon has specialized in bankruptcy law in the Riverside, San Bernardino, Orange County and Los Angeles areas for over 20 years.
Runyon, an accomplished professional of many eclectic interests, believes in working directly with her clients throughout the entire legal process. The most rewarding aspect of her work, she explains, is listening and helping her clients solve their problems.
Runyon has a long history of involvement with the RCBA. She began mediating for RCBA Dispute Resolution Service, Inc. (DRS) in 1998, and in 2002, joined the executive boards of both DRS and RCBA's Public Service Law Corporation. In 2007, she assumed the Secretary position on the DRS Board of Directors, a role in which she continues to serve today.
In addition to her service at the RCBA, Runyon has donated her time to several other professional service activities throughout the course of her career. She has served in a variety of executive roles for the Southern California Association of Law Libraries (President in 1989, Vice-President in 1988 and Treasurer in 1987) and the Inland Empire Bankruptcy Forum (Executive Board from 1995-2005, President in 2000, President Elect in 1999 and Secretary in 1997). She has been a member of the Leo B. Deegan Inns of Court since 2009.
Runyon has been on the panel of mediators for the Central District of the U.S. Bankruptcy Court since 1998, where she has earned recognition for settling the most cases in the shortest amount of time in one day.
More recently, Runyon joined the Riverside Rotary Club. She was also just accepted into the Mission Inn Foundation's 30-week docent training program.
Included among her many interests are books, performance arts and flight.
"I'm an avid book reader. I read a book a week. I love that. As an only child, reading was a comfort to me. I spent a lot of time in libraries. Then, being involved in the theatre, I had to learn to express myself," Runyon reflected.
Runyon grew up in Decatur, Ill. Her father was a hardworking, successful owner of a drilling company and her mother was dedicated to cultivating opportunities for her daughter to succeed.
As a child, Runyon started taking dance classes. Performance arts turned into a lifelong passion and profession long before she would become involved in law.
"My parents gave me opportunities, but I had to work through them. You can't become a dancer without hard work," she explained.
Runyon started college at the University of Illinois as a voice major with a minor in piano. During this period, she operated her own dance studio and sang for a 14-piece band. Later, she moved to Oklahoma City, where she performed with the Oklahoma City Ballet Company and taught for two dance studios.
Runyon moved to La Jolla, Calif. in 1967, where she taught dance for the University of California San Diego, performed on various productions and worked on her undergraduate degree in anthropology with an emphasis on dance in different cultures.
While working on her undergraduate degree, Runyon had the opportunity to study in Paris. She and her family moved there for a year, where she immersed herself in the culture, the language and studied mime with Etienne DeCroux, who was Marcel Marceau's instructor.
"Living in Paris was a heady time, rich in opportunities to see and travel throughout Western Europe," she writes, "During the summer we traveled throughout France, Italy, Austria, Germany, Belgium and England in our VW Camper and made many lifelong friends along the way."
Runyon completed her undergraduate degree after she and her family returned to California.
She then decided to pursue a law degree during a time of heightened political unrest and the Women's Liberation Movement.
"No one in my family had ever practiced law. No one in my family ever did anything that I did, but I've always been a bit of a risk taker," Runyon said. "I do things I don't know how to do so that I can learn how to do them! You don't do things that you already know how to do. There's no growth or inspiration there."
After she started law school, Runyon began working as a campus librarian at the newly renamed Thomas Jefferson School of Law in San Diego, where she completed her Juris Doctor degree. Later she worked as the university librarian at Western State University College of Law in Fullerton. This spearheaded what would become an 18-year career as a law librarian.
Runyon completed her Master's degree in Library and Information Science in 1984 at the University of Southern California. Shortly thereafter, she began working at Litton Industries. Her main responsibility as a Corporate and Law Librarian was to set up law libraries and online research capabilities for the attorneys at the organization's different divisions located worldwide.
"While working for Litton, I discovered their Woodland Hills Division had a ground school for private pilots. So I decided that it would be really neat to learn how to fly! I completed ground school, passed the test and began taking flying lessons at Van Nuys Airport," Runyon writes.
Runyon learned how to fly the Cessna 152, 172, Grumman Tr2 and the Citabria. She was also an active member of the San Fernando Valley chapter of the International Women's Pilot Association, also known as the 99's.
Runyon became an attorney after passing the California Bar Exam in 1991. She opened her own law office in 1994.
For her many personal and professional accomplishments Runyon has adopted an attitude that is remarkably humble, jokingly referring to herself as 200 years old.
"We need to be humble. When we look at everything we've accomplished, it helps us appreciate more what we've done. I think we all need to appreciate ourselves and where we have been," she said.
---
Krista Goodman is the public relations coordinator for RCBA Dispute Resolution Service, Inc. She recently graduated with a Master of Arts in Strategic Public Relations from the University of Southern California.
---
This profile was published in Riverside Lawyer Magazine, Volume 64, Number 1 (January 2014).
---