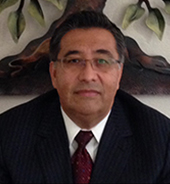 Profile of a DRS Mediator: Luis E. Lopez
By Krista Goodman
June 2014
Editor's Note: We at DRS want the members of the RCBA to know the mediators on our panel who dedicate their time and services to help us run our programs for the benefit of the public of Riverside County. We hope you enjoy the opportunity to read more about this mediator's personal and professional history. We are truly grateful to have Luis E. Lopez and his expertise on our panel.
---
For Riverside attorney Luis E. Lopez, there is no greater personal reward in his professional work than being able to use his legal expertise to truly help people. This wholehearted passion is what fuels his involvement in the Riverside Family Law Court's Voluntary Settlement Conference program on the first and third Fridays of every month.
On these Fridays, approximately 10 cases are selected to participate in the VSC program. The parties have the opportunity to resolve their issues, fill out their paperwork and settle their cases within a day. RCBA Dispute Resolution Service, Inc. works in conjunction with the Court to coordinate the assignment of a mediator to each case on the day of the hearing.
"It helps people get matters resolved and it gives them a person they can talk to and help them understand what the divorce terms and requirements are," Lopez said.
Lopez explained that many family law cases linger in the court system for years simply because the paperwork is not filled out correctly or one of the parties is not served properly.
On a recent Friday, Lopez mediated and settled two cases. One was resolved in a matter of 15 minutes — all the parties needed was some guidance on how to fill out the paperwork. The parties involved in the second case had not spoken in at least two years. "They didn't communicate with each other. I think it was because they were afraid of what to say and what not to say," Lopez deduced.
"This couple might not remain in contact afterwards but at least they walked out with a judgment and they're going to respect each other because they now understand that neither one was causing the delays." He added, "The husband, who had a lawyer, saved thousands in attorney's fees because now they won't have to go trial."
The time and legal expertise volunteered by mediators like Lopez in the VSC program has helped to resolve hundreds of similar cases. He has been involved with it since it started in November 2010.
"I've actually had folks who haven't spoken to each other in a long time go out and have lunch together after they receive their judgment," Lopez said. "You can't beat that."
Lopez operates a practice in Riverside with an associate and a small staff, focusing mostly on family law matters, with some consumer bankruptcy law and other legal services provided to small family-owned businesses.
Earlier in his career, he was a founding partner in a larger firm. He described it as a booming practice, but he had less time to work with his clients on a personal basis. "As a founding partner I was focusing more on managing and making sure we could cover our expenses than on what I wanted to do," he reflected.
"In 2010, I went back to what I always thought I should do, which was have a small law firm and represent people that need my services on a personal basis."
Before the VSC program started, Lopez provided a free legal clinic in San Bernardino for over a decade. "Every Wednesday I would go to San Bernardino and people would come into this little office," he remembered, "if there was a group and they were all there for family law matters, I would have a lecture about family law." It became so busy that the clinic was later held twice a week and by appointment-only. There were parties that came from as far as Las Vegas, Utah and Arizona for legal aid.
By 2007, there were fewer people that needed assistance. When the clinic was discontinued the director moved on to work for Lopez full-time at his practice.
Today, Lopez is a founding committee member of an initiative called Project Graduate, a coalition between the Riverside Juvenile Court, Riverside County Child Protective Services and the Riverside County Bar Association (RCBA). Project Graduate was founded to give young adults in the foster care system an extra boost toward high school graduation. More than mentors, members of the committee volunteer their time as educational representatives who work on behalf of the students.
"There is specific law that allows the Court to legally appoint advocates for educational purposes. Those of us who are educational representatives have a court order that allows us to help these students get any assistance they need to graduate," Lopez said.
Educational representatives meet with the student and ensure that all of that student's needs are met by the school. For example, if the student is in need of tutoring, the education representative may legally demand that the school provide tutoring to help that student successfully graduate.
As a part of Project Graduate, students also earn points for their involvement in school and/or extracurricular activities. The points are awarded as a gift, such as a notebook computer, at graduation.
Lopez's own education had a profound impact on him, personally and professionally. He completed his undergraduate degree in political science from California State University, Fullerton, where he first met current RCBA President Jacqueline Carey-Wilson. He was actively involved in school politics, including serving as the chief justice of the student court, where he presided over student issues of educational and professional misconduct. He also helped conduct legal research to back a highly publicized motion to bar former Ku Klux Klan member Tom Metzger from filming a prejudiced cable show on university property.
After his time as CSUF, Lopez went on to pursue his law degree at the McGeorge School of Law in Sacramento.
"I loved it — the school, the professors, the challenge and the comradery. There were very few people that loved law school more than I did," Lopez said. "I remember thinking, 'This is what I want to do. This is what I was meant to do.'"
Traveling is one of his great interests outside of his professional life. Although he was born and raised in Mexico, he explained that every trip back home is still a new and interesting experience. He has visited several major U.S. cities and India.
"You don't get to see the beauty of other people's cultures until you go there," Lopez said. "Every country has an incredible history. I love to learn about that."
He and his wife recently returned from their first trip to Paris. Their mutual aspiration was to learn about the history and culture of France in person rather than through a book.
To reach the Law Offices of Luis E. Lopez, call (951) 367-0834. To find out more information about Project Graduate visit riversidecountybar.com/member-resources/project-graduate. For more information about RCBA Dispute Resolution Service, Inc., visit rcbadrs.org or call (951) 682-2132.
---
Krista Goodman is the public relations coordinator for RCBA Dispute Resolution Service, Inc. She recently graduated with a Master of Arts in Strategic Public Relations from the University of Southern California.
---
This profile was published in Riverside Lawyer Magazine, Volume 64, Number 6 (June 2014).
---