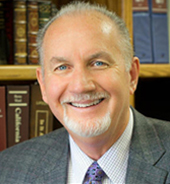 Profile of a DRS Mediator: Rob Schelling
By Krista Goodman
September 2015
Editor's Note: We at RCBA Dispute Resolution Service, Inc. (DRS) want to introduce you to the mediators on our panel who dedicate their time and legal expertise to Riverside County's public benefit alternative dispute resolution (ADR) programs. We hope you enjoy learning more about Attorney Rob Schelling, whom we're extremely grateful and privileged to have involved in these programs.
---
"If it's to be summed up, my mediation practice would be mediation for humans – not for litigants, for humans," Attorney Rob Schelling described his approach to alternative dispute resolution (ADR) in legal disputes. He frequently engages ADR methods to help resolve cases in his private practice, and also gives generously of his time and legal talent to several ADR programs provided through the Riverside County Superior Court and RCBA Dispute Resolution Service, Inc. (DRS).
"What I enjoy most about my practice is the interaction with people. Clients don't come into my office unless they've experienced a major life event – they've lost a loved one, they've been attacked by a dog, they've been in an accident and injured, their elder parent has had property and money stolen from them, or they've been involved in a real estate transaction that has gone bad . . . and to be able to help them get through that experience and reach a positive outcome for them has always inspired me," Mr. Schelling explained.
He has been a private sole practitioner for the all of his 28-year legal career. Today, his office is located in Menifee, where he practices civil litigation, primarily representing plaintiffs in financial elder abuse, dog bite, premises liability and real property litigation.
"When they come to you in these circumstances, they transition from a hard experience into a world they don't fully understand. The legal community speaks a language they don't fully understand, and it operates under time constraints and rules that are difficult for them to comprehend," he said. "Trying to bridge that gap to help them understand and navigate the legal system in a way that eases the pain for them – that's what really motivates me."
Since 2001, Mr. Schelling has served on both the Riverside County Superior Court's Civil Mediation Panel for mandatory court-appointed mediations and its Judicial Arbitration Panel.
Barrie Roberts, who once coordinated ADR services for the Court, had a profound impact on Mr. Schelling's mediation practice. "I've had a passion for mediation for quite some time, but my involvement with the Court really changed when Barrie Roberts started working for the Court," Mr. Schelling remembers. "Not only did she make it possible for others and myself to receive the Straus Institute for Dispute Resolution training, she exuded such a passion and enthusiasm for mediation . . . it was infectious. I think she significantly helped change our [the Riverside legal community's] outlook on resolving cases."
Mr. Schelling has mediated for the Trial Assignment Mediation (TAM) Program at Riverside two to three Fridays a month for more than three years. He also recently joined the new panel for the TAM Program at Southwest, an extension program that launched at the Southwest Justice Center, located in Murrieta, in January 2015.
"The TAM Program is a lot of fun. Not only are the court staff involved delightful to work with, the mediations are quite different than those conducted in your office. I refer to them as 'drive-by' mediations because you don't have the benefit of briefs or other preliminary information on a case," Mr. Schelling explained. "As a mediator, you arrive on Friday morning, you're assigned a case and you jump into the nuts and bolts of it more quickly to help the parties and counsel see the wisdom of resolving their dispute short of starting trial on Monday. This environment also allows you the freedom to be more creative in suggesting possible means to resolution."
Additionally, Mr. Schelling serves on the panel for the DRS Probate Mediation Program, wherein the parties receive three hours of mediation at no cost through the program. Both TAM programs and the DRS Probate Mediation Program are funded in part by the Dispute Resolution Programs Act (DRPA) through Riverside County and administered by DRS in collaboration with the Riverside County Superior Court.
Mr. Schelling is also working on a chaplaincy training program with a vision to help people going through situations of grief and trauma as victims of crimes. "The chaplaincy training, and the tools you use in crisis intervention and for those suffering from trauma, has helped me become a more effective mediator," he said.
He reflected on the grief his family felt over the loss of his 5-year-old granddaughter, due to cancer, this past year.
"You reach levels of sorrow and pain you never knew existed. There were days I would go into the office, turn on the computer and find it extremely difficult to function in a meaningful manner. This experience has certainly helped me to be more sensitive to those who come into my office. It has also helped me to be a better listener in my mediations."
"It's so easy for us to lose sight of the human element of litigation. . . I view the opportunities that are afforded to me through serving as a mediator (and through the chaplaincy program) as a chance to be able to touch others' lives in a meaningful way and help them achieve some resolution," he explained. "There's so much to learn about human suffering. The more you learn, the better you can communicate with people, touch them and bridge the gap between the pain and loss they experience and the legal process they're going through."
One of Mr. Schelling's passions, outside of his practice, is the annual Riverside Mock Trial Competition, which is sponsored by the Riverside County Bar Association, the Riverside County Office of Education, and the Riverside County Superior Court, in collaboration with the Constitutional Rights Foundation. He has been involved with Mock Trial for many years as a scoring attorney, and he has had the pleasure of assisting Vic Wolf and Mark Easter coach the Woodcrest Christian High School mock trial team. "Being involved with the high school students for Mock Trial has been among one of the most fulfilling activities of my legal career," he said. "The students never fail to inspire me to be a better person and attorney."
Mr. Schelling did not take what he would consider the traditional path to becoming an attorney. His family immigrated to the United States from Holland in 1956. They resided in Cerritos (Dairy Valley), where his father worked on a dairy farm, milking cows. Between his junior and senior year in high school, his family moved to Perris, where his parents purchased a small egg ranch. Mr. Schelling was not a model student in high school, describing himself as more of a troublemaker than a student. After completing high school, he attended Riverside City College for a time. He was no better student there, so he decided to join the U.S. Marines. After three years of service, he was discharged early so that he could return home and help his father, who had suffered a heart attack, with the farm in Perris.
Shortly thereafter, Mr. Schelling met his wife. Initially, he worked as a real estate salesman. This was the time of spiraling interest rates and it was difficult to support a family in real estate. It also wasn't a career path he found personally fulfilling. It was during this time that he responded to an advertisement for law school.
In his early thirties with a young family and a full-time job, he started law school full-time at Western State University School of Law at Fullerton. He completed school in three years and passed the California State Bar in June 1986.
His early practice was focused exclusively on lemon law cases. "It was a wonderful area of law at that time. It was brand new. I got to litigate against a lot of great defense lawyers. I also learned much about how to resolve cases. It was during this time my understanding of the human element of litigation began to take shape," He remembered.
Mr. Schelling's first office was in Riverside. In 1994, he closed that office and worked out of his home for a few years in order to spend more time with his children and to help his wife, who suffers from a chronic illness. In 1997, his family moved to Riverside. After a bout with colon cancer, he opened an office in Perris. In 2007, he moved his private practice to Menifee.
Mr. Schelling and his wife Kathy have been married for 35 years. They have two sons and one daughter. Their son Eric, married to Kimee, lives in Anacortes, Washington with two children. Their son Joel, married to Ashley, also lives in Anacortes, Washington. Their daughter Leah, married to Andy, lives in San Luis Obispo, California. Mr. and Mrs. Schelling's nephews Ryan Anderson and Greg Anderson and niece Kristen Vela and their spouses and children are equally as precious extended family.
Mr. Schelling most enjoys spending his spare time with his family. Sundays are usually spent attending church and the remainder of the day with his wife and family. He enjoys traveling to see his children and grandchildren, which is when he and his nine-year-old granddaughter Maddie together enjoy outings to share their mutual love for ice cream. His grandchildren call him "Opa," which is Dutch for "grandfather."
For more information about RCBA Dispute Resolution Service, Inc., visit rcbadrs.org or call (951) 682-2132.
---
Krista Goodman is the scheduling coordinator for RCBA Dispute Resolution Service, Inc. She completed her Master of Arts in Strategic Public Relations at the University of Southern California and her Bachelor of Arts in Journalism & Media at California Baptist University.
---
This profile was published in Riverside Lawyer Magazine, Volume 65, Number 8 (September 2015).
---