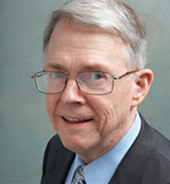 Profile of a DRS Mediator: Robert T. Andersen, Jr.
By Krista Goodman
October 2014
We at RCBA Dispute Resolution Service, Inc. (DRS) want to introduce you to the mediators on our panel who dedicate their time and legal expertise to the Riverside County public benefit alternative dispute resolution (ADR) programs. We hope you enjoy the opportunity to read more about this mediator. We're truly grateful and privileged to have Mr. Robert T. Andersen on our panel.
---
Mediation provides the greatest chance for the parties in a dispute to reach a real resolution, according to Riverside attorney Robert T. Andersen of Andersen Mediations.
He discovered a passion for mediation when he began working for Riverside law firm Redwine & Sherrill in 1987. One of the main reasons he found that he preferred mediation to litigation was due to his personality as more of a problem-solver than a fighter.
"After I got to Redwine & Sherrill, I found that mediation was of interest to me," he said, "I gravitated towards settling as many cases as I could . . . I didn't want to go to trial unless it was necessary."
He also believes that litigation comes at a great expense to all those involved, and that it's imperative that clients understand exactly what litigation is going to cost beforehand if they're adamant about going to trial.
He describes four main costs to litigation. The first cost, financial, is obvious. "Second, there's time cost. It takes a while to litigate. You'll be stuck in a lawsuit rather than doing things you would rather be doing. The third cost is opportunity. If you're in business, you probably want to generate more business," said Andersen. "By spending time in a lawsuit, you're not spending time developing your business. And the last one is stress – that's probably the one that hits people the hardest because their bodies will be reacting to the stress and they're not realizing it."
Andersen joined the Riverside County Superior Court's Alternative Dispute Resolution (ADR) panel when it started in the 1990's. "The Court started with nonbinding arbitrations, but the mediation seemed to solve the problem better because the parties had to come to an agreement," he said. "If you had an arbitrator and the result was nonbinding, you could appeal the award if you didn't like the result. You'd end up back in court without having solved anything."
He recalled cases with Judge Elwood Rich, who is still famous for conducting hallway mediations in the courthouse in the earlier days of the Court's ADR program. "Judge Rich used to call it 'solving the puzzle.' I like that analogy because there's a problem out there that can be solved, but you have to figure out what the pieces are, and how the pieces fit together to solve the problem."
Joining the DRS panel was a natural fit for Andersen. He handles probate matters referred to DRS through the Court's Probate Mediation program, which provides the parties an opportunity to resolve conservatorship and trust disputes through mediation. The parties receive three hours of mediation at no cost. The program is funded, in part, by Riverside County through the Dispute Resolution Programs Act (DRPA). He also is on the civil panel for Riverside County Superior Court.
Additionally, Andersen volunteers his time on Fridays for the Trial Assignment Mediation (TAM) program at the Riverside County Historic Courthouse. Cases that are about to go to trial are referred to the TAM program to receive one last opportunity to settle through mediation before going to trial. Like the Probate Mediation program, the TAM program is provided through the collaborative effort of the Court and DRS.
Andersen completed his Bachelor of Arts in Economics & Public Service in 1971. He earned his Master of Public Administration from the University of California at Los Angeles in 1972, and his Master of Arts in Theological Studies from Talbot Theological Seminary in 1977. Andersen first felt compelled to go law school after watching the Watergate hearings, which exposed legal and political corruptions to the public. "My recollection is that just about everyone that went to jail was an attorney, and I thought it might be worthwhile to try and have an impact in that area," Andersen said.
Andersen completed his Juris Doctorate at the McGeorge School of Law and passed the California State Bar exam in 1979. Going into law was a career shift from his past governmental administrative experience, but he has worked in it ever since.
Andersen is also in the last of a three-year term on the California State Bar's Alternative Dispute Resolution Committee, and has taught business and church law at California Baptist University (CBU). Today, his teaching efforts are focused on marriage. He and his wife provide a seminar for local church groups called "The Marriage Dance."
"We try to provide some good help in resolving issues before they become issues," Andersen explained. "Men and women are different. When you put a husband and a wife together, they're going to be different," He says, "how do you work through some of the things that are contentious?"
In August 2014, the Andersens published their first joint authored book, "The Marriage Dance: Moving Together as One," which expands on the seminar.
The Andersens have three grown daughters—Brooke, Laurel and Amy—and four grandsons. In their spare time, they enjoy hiking and tent camping in national parks.
For more information about RCBA Dispute Resolution Service, Inc., visit rcbadrs.org or call (951) 682-2132.
---
Krista Goodman is the public relations coordinator for RCBA Dispute Resolution Service, Inc. She recently graduated with a Master of Arts in Strategic Public Relations from the University of Southern California.
---
This profile was published in Riverside Lawyer Magazine, Volume 64, Number 9 (October 2014).
---