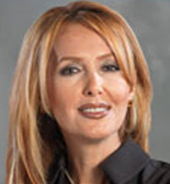 Profile of a DRS Mediator: Soheila S. Azizi
By Krista Goodman
January 2016
Editor's Note: RCBA Dispute Resolution Service (DRS) is proud to introduce you to the members of our experienced panel of neutrals who dedicate their time and legal expertise to our Riverside County public benefit alternative dispute resolution (ADR) programs. Please enjoy learning more about DRS panelist Soheila S. Azizi, whom we're grateful and privileged to have involved in our programs.
---
With the foundation of her legal practice built upon advocating for equality, civil rights, and social justice, Attorney Soheila S. Azizi has devoted her personal and professional life to promoting peace and unity for her clients and community.
Based in Rancho Cucamonga, The Law Offices of Soheila S. Azizi & Associates has been serving the Inland Empire for nearly 20 years in the areas of family law, elder abuse, medical malpractice and personal injury. Azizi's family law practice extends to matters concerning: divorce, property division, child support, spousal support, child custody and visitation, child relocation, domestic violence law, adoptions, guardianships, and domestic partnerships. Her firm handles personal injury matters concerning negligence by hospital and health care providers, nursing home neglect, and elder abuse, in addition to providing legal document preparation services to self-represented litigants and low-income families.
Azizi began her undergraduate education at the National University in Tehran, Iran in 1976. Her studies were interrupted shortly thereafter by the Iranian Revolution, which resulted in the closure of the university. She then immigrated to The United States to escape the warring factions that did not tolerate people of her faith. In 1979, she completed her Bachelor of Arts in Economics at Hofstra University in Hempstead, New York.
Later, she completed an Associate of Arts degree in Design and Merchandising, with which she built a lucrative fashion business in manufacturing and merchandising her own line of clothing.
"It wasn't until my return to college as a second career that I chose law as a vehicle that could empower me to do what I wanted to do," she remembered.
Azizi chose the University of La Verne, School of Law to continue her studies. While attending the University of La Verne, she became a member of The Law Review, Journal of Juvenile Law, and dean of the Delta Theta Phi International Law Fraternity. She also interned with the Riverside Public Defender's Office, representing Defendants on non-felony charges, and the San Bernardino District Attorney's Office, conducting preliminary hearings and research. In 1993, she completed her Juris Doctorate and was admitted to California State Bar.
At the beginning of her legal career Azizi worked part-time as an associate with a Los Angeles-based firm as well as maintained her own independent practice. Four years later, she opened her own firm in Rancho Cucamonga, where her practice has been based ever since.
"It wasn't originally intended to be a family law practice. It was intended to be the voice of the victims of injuries," she remarked. "What started out as a serious injury law firm evolved into us helping families struggling with their conflicts. That coincided with my pursuit of mediation and conflict resolution as an alternative to litigation."
With a heart for building unity and peace among people, conflict resolution became a major focus of Azizi's legal practice. She is always actively working toward refining her skills as a neutral by participating in continuing legal education with an emphasis on advance family law and mediation training.
Amongst her comprehensive training, Azizi has completed: "Advanced Family Mediation Skills," at the Pepperdine University School of Law, Straus Institute for Dispute Resolution; "A Systematic Approach to Mediation Strategies (STAR)," at the Pepperdine University School of Law, Straus Institute for Dispute Resolution; "Mediating the Litigated Case," at the Inland Valley Justice Center (IVJC) in 2010 (she served as a co-presenter on mediation in litigation the following year); a 32-hour training program on advanced family law mediation through the Center for Understanding in Mediation; and last year was a participant in a full-day workshop entitled "Conflict to Consensus." Also in 2014, she completed 18 hours of intermediate mediation training through the Collaborative Divorce Professionals of the Inland Empire (CDPIE), wherein she has also been a member since 2010.
Azizi is affiliated with and serves on the panels for several specialized ADR organizations and programs. She is currently on the panels for three court mediation programs administered by DRS in conjunction with and for the Riverside County Superior Court. These include the Family Law Voluntary Settlement Conference (VSC) Program at Riverside, the Probate Mediation Program, and the Trial Assignment Mediation Program (TAM) at Riverside, which are all funded by the Dispute Resolution Programs Act (DRPA) through the County of Riverside.
Azizi has been involved with the VSC Program at Riverside since it was first implemented in November 2010. The program commences on the first and third Fridays of every month at the Riverside Family Law Courthouse. It has become the most successful family law mediation program in the State of California, with seven out of 10 cases completely resolved on the same day as the VSC.
The Probate Mediation Program works significantly different. Probate matters, primarily involving trusts and conservatorships, are referred to the program by the Court. DRS assists the parties by coordinating the assignment of a mediator and the scheduling of the mediation date. It also provides facilities for confidential use at the Riverside County Bar Association. The parties receive three hours of mediation at no cost through the program pursuant to their Notice of Referral by the Court.
"When I got my first few probate cases, I realized that these were very different. I had to use a completely different set of skills that I didn't know I had," Azizi explained. "I'd been trained how to do transformational mediation, but I hadn't really done a lot of it until I started doing the probate mediations."
"It has proven to me that when we connect with people from heart-to-heart, and we intersect the powers of love, motivation and goodness, that it takes us to a different realm." She continued, "It gives me hope and satisfaction to bring resolution to families with struggles who were once at once at odds with each other."
The TAM Program at Riverside commences every Friday at the Riverside Historic Courthouse. Matters on the civil trial calendar are referred to trial assignment mediation with talented volunteer mediators such as Azizi to receive one last opportunity to resolve the matter before it goes to trial the following week. The Court provides facilities for confidential use in the courthouse for the mediations.
"That program has really made a believer out of me because I never thought that you could have a chance at settling a case that late in the process," Azizi said.
"I'm a believer in early neutral evaluation. I'm a believer in trying a voluntary settlement conference at every step of the process. I've become a believer in this program because I have settled cases where the litigants and attorneys appear in court with their witnesses lined up, with their boxes of exhibits, and they are ready to start trial on Monday."
Azizi also serves the local courts as a volunteer certified temporary judge, settlement officer, mediator and arbitrator for Riverside and San Bernardino County Small Claims, Superior Court Family Law, and Civil Mediation panels.
She is a co-founder, board president and panelist for California Arbitration & Mediation Services (CAMS), and a panelist for First Resolution Services, Inc. She is a past panelist for Inland Valley Arbitration & Mediation Services (IVAMS) and past supervising panelist for the IVJC. Additionally, she has served as an Arbitrator for the Mandatory Fee Arbitration Program of the California State Bar since 2000.
"I'm hoping for a day when we can call it something different than 'alternative dispute resolution.' It shouldn't be the alternative," Azizi said. "The alternative should be litigation as a last resort, and not as the first option."
Azizi is affiliated with various legal organizations, including the Riverside County Bar Association, the San Bernardino County Bar Association, the Western San Bernardino County Bar Association, and the Iranian American Lawyers Association. She is a past member of the Consumer Attorneys Association of Los Angeles.
Outside of her legal practice, Azizi devotes her spare time to community-building and humanitarian efforts.
"Many of the organizations and activities that I'm involved with have to do with unification, bringing the community together, and creating harmonious relationships between diverse groups of people," she explained.
She is a co-founder and a past president of the Upland Interfaith Council and she currently serves as a board member of the Spiritual Assembly of Baha'is of Upland, participating in administrative, consultative, community-building and dispute resolution activities. She served as a board member for the Upland Community Partnership for Youth Development from 2005 through 2012.
In 2005, she co-founded the "Women on the Move Network," which started out as a conference and grew into a movement. "Empowerment through service became the goal of the organization," she said.
"It was a small organization working with housing projects in facilities where we could focus on young girls ages 9 to 11 and give them the tools that they needed to become the heroes in their own lives. The program was called 'Who's Your Hero?'" She continued, "Now we've expanded the program to cover ages 11 to 13, and we have other programs for older girls at foster facilities." She continues to serve in the capacity as a board member.
"It is in line with this goal and vision of equality and justice for all, and this vision for the accessibility to justice for all members of the community. This has always been very near and dear to my heart," she explained with sincerity.
Azizi has taught, guest-lectured, presented and co-presented on several topics concerning mediation, various legal matters, civil rights, justice and equality at the University of La Verne, California State University at San Bernardino, the Southern California Mediation Association, and many others. She has participated and co-sponsored the ADR Symposium (2011), the Civil Rights Symposium (2012), and the "Cause Lawyering" Symposium (2014) through the University of La Verne, College of Law.
"I think that we as human beings will reach our highest potential when we know how to overcome conflicts. Everything I do in life is aimed or focused at bringing peace to the world. If that's outside my reach, then to do so at least within the surrounding community."
Mrs. Azizi and her husband Dr. Faramarz Azizi, a medical physician, live in Upland.
For more information about RCBA Dispute Resolution Service, Inc., visit rcbadrs.org or call (951) 682-2132.
---
Krista Goodman is the scheduling coordinator for RCBA Dispute Resolution Service, Inc. She completed her Master of Arts in Strategic Public Relations at the University of Southern California and her Bachelor of Arts in Journalism & Media at California Baptist University.
---
This profile was published in Riverside Lawyer Magazine, Volume 66, Number 1 (January 2016).
---