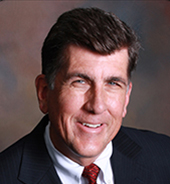 Profile of a DRS Mediator: Thomas D. Allert
By Krista Goodman
March 2014
Editor's Note: We at DRS want the members of the RCBA to know the mediators on our panel who dedicate their time and services to help us run our programs for the benefit of the public of Riverside County. We hope you enjoy the opportunity to read more about this mediator's personal and professional history. We are truly grateful to have Thomas D. Allert and his expertise on our panel.
---
"The greatest service that you can perform for your clients is to prepare them for the various scenarios that can unfold when you get to court," said attorney Thomas D. Allert after 36 years of practice in family law.
From 1978 through 2008, Allert practiced with Riverside law firm Swarner & Fitzgerald. When the partners of the firm decided to retire or transition out of private practice, he continued as a sole practitioner. He now works out of offices located in Downtown Riverside and his home, focusing his efforts on both litigation and mediation.
He explained two of the main responsibilities he has to his clients. "First, you have to be honest with your client about what they can expect and not expect in court," he said.
"Second, you have to help your clients see themselves in their circumstances and predicaments," he added. "You have to help them develop the ability to be introspective about their situation and do what's best for themselves and their children."
A lifelong resident of Riverside, Allert grew up and attended high school and college locally. After high school he pursued his undergraduate degree at the University of California at Riverside, where he received a scholarship to play baseball.
When he graduated in 1974, he had a couple offers to play minor league baseball. "I had one from the Cleveland Indians and one from the San Diego Padres," he remembered, "but my arm was bothering me so I decided to go to law school instead."
His grandfather, who was county recorder for the County of Riverside for over 44 years, was a major influence in his decision to pursue a law degree. "When I was young he always told me, 'Become an attorney and practice probate, you'll never regret it.' That stuck with me. When I decided that I wasn't going to go on with my baseball career, I went ahead and applied for law school."
Allert completed his Juris Doctorate at Western State University in 1978. He passed the California State Bar the same year and went to practice with Swarner & Fitzgerald.
He came into practice during what he described as the golden age of family law, when most litigants that came through the courthouse were able to afford attorney representation. More recently, the amount of self-represented litigants has escalated. He said that it has caused a shift in the economy for family law attorneys. The need for a smoother and more efficient court system to process cases has also risen with this change.
That's where initiatives like the Family Law Voluntary Settlement Conference (VSC) program come in. On the first and third Fridays of every month, RCBA Dispute Resolution Service, Inc. and the Riverside Family Law Court work together to coordinate the assignment of mediators to family law cases that are selected by the Court to participate in the program. Litigants have the opportunity to resolve their cases through mediation, an alternative dispute resolution (ADR) method that is often more time-efficient, cost-effective and satisfying for the participants. Approximately 20 cases go to mediation each month, many of which are resolved the same day.
"I get tremendous satisfaction out of it because we help people get their divorce completed in a day and they get to go home with their paperwork in hand," Allert said.
Allert has generously invested his time as a mediator since the program started in November 2010.
"Our supervising family law judge, the Honorable Jackson Lucky — I can't believe the amount of energy he has. He is really giving it all he has got to assist with this transition," Allert said.
In September 2013, Allert began managing the family law clinic for the Public Service Law Corporation (PSLC) on Tuesday and Thursday evenings. He explained that the clinic, in some ways, is an extension of the Family Law Court's Self-Help Center. It was started to help indigent parties who are unable to afford paralegal services to prepare and file their paperwork.
"I really didn't realize until I started with the clinic just how many people out there need a good service for a short amount of time just to get in an out of the system," he said.
The clinic handles approximately six to eight cases two nights a week.
"This clinic is actually perfect for me because I love meeting new people and I like helping them work through their problems," he said.
"I like getting a smile out of them instead of a frown," he added, "many of them come in really depressed and we send them out an hour or two later with smiles on their faces."
In the coming year, he hopes to see the economy turn around so that the clinic can recruit more attorneys to assist. It could then increase the volume of cases and the number of people that receive help each week.
"I'm really having a great time," he concluded, "I like the people I work with and I like the people I work for."
Allert's wife DeEtte is an assistant principal for the Riverside Unified School District. They have two grown sons; one is a Naval aviator and the other a Riverside County Sheriff's Deputy (USMC). He also has two dogs — a 9-year old lab and a 10-year-old rescued greyhound.
In his spare time, Allert enjoys scuba diving, playing racquetball, and riding motorcycles.
For more information about Riverside Legal Aid and its services, visit riversidelegalaid.org or call (951) 682-7968. For more information about RCBA Dispute Resolution Service, Inc. and its services, visit rcbadrs.org or phone (951) 682-2132.
---
Krista Goodman is the public relations coordinator for RCBA Dispute Resolution Service, Inc. She recently graduated with a Master of Arts in Strategic Public Relations from the University of Southern California.
---
This profile was published in Riverside Lawyer Magazine, Volume 64, Number 3 (March 2014).
---